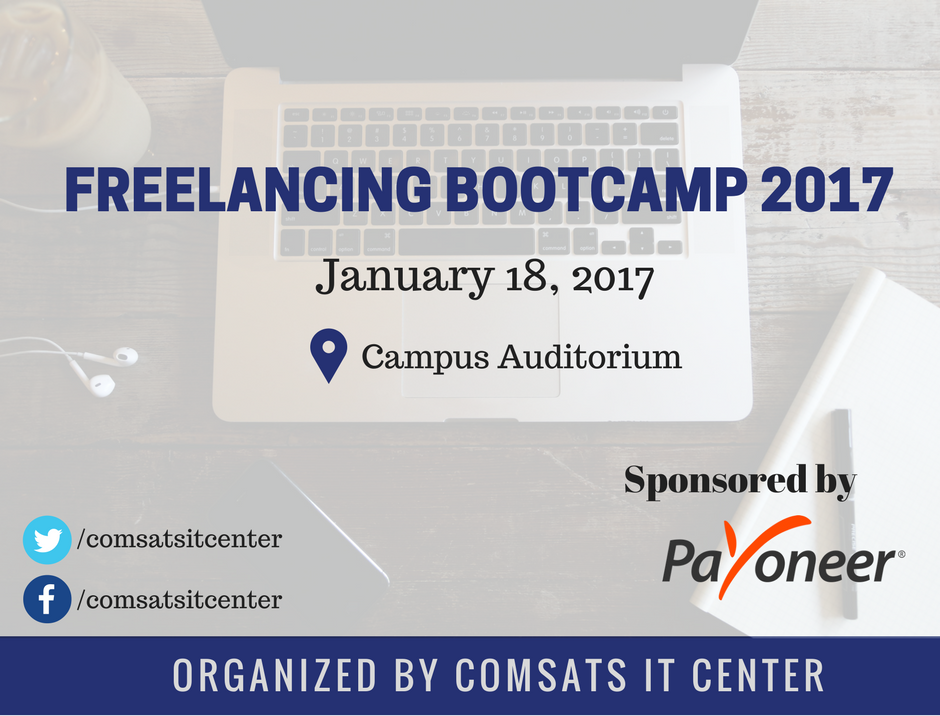 COMSATS IT Center presents Freelancing Bootcamp 2017 (Wednesday, January 18, 2017). This Bootcamp is open for all and students from other colleges & universities can register for this Bootcamp.
Why Freelancing?
According to Gary Swart (Ex CEO,oDesk now Upwork) One third of global workforce may be hired online by the year 2020
http://video.foxbusiness.com/v/1913386202001/the-future-of-freelancing/
Edelman Berland, an independent research firm released findings of a survey carried out for Upwork & Freelancers Union in July 2015. According to this survey around 53.7 Million Americans  are working as Freelancers which is around 34% of the total workforce. (http://www.bloggerzarena.com/future-of-freelancing/)
Registration:
Register Online OR Visit COMSATS IT Center
Certificates will be given to all the participants
Follow COMSATS IT Center on Facebook & Twitter to stay connected!
Freelancing Bootcamp 2017 has been sponsored by Payoneer.
About Sponsor:
Payoneer empowers global commerce by connecting businesses, professionals, countries and currencies with its innovative cross-border payments platform. In today's borderless digital world, Payoneer enables millions of businesses and professionals from more than 200 countries to reach new audiences by facilitating seamless, cross-border payments. Additionally, thousands of leading corporations including Google, Airbnb, Upwork and Getty Images rely on Payoneer's mass payout services.
With Payoneer's fast, flexible, secure and low-cost solutions, businesses and professionals in both developed and emerging markets can now pay and get paid globally as easily as they do locally.